Featured at the Gilded Spruce is our collection of 4 distinct Father Christmas figures.  All of these are hand-crafted by Kay Burkhart.
View all the images!
Each Father Christmas has a porcelain face and hands. Every Father Christmas is crafted with old woolens, vintage furs, and wonderful old costume jewelry.
All of these one-of-a-kind pieces have an authentic wool beard. There are no two alike. All come with this numbered, signed, and dated card.
"I have created this Father Christmas just for you. I have stirred in some memory and tradition, too.
I've mixed in old toys for good little boys and jewels and curls for good little girls.
He is one of a kind, made with love and great pleasure. He seeks a warm home where he'll be held as a treasure." Kay Burkhart.
HAND MADE PENDLETON FATHER CHRISTMAS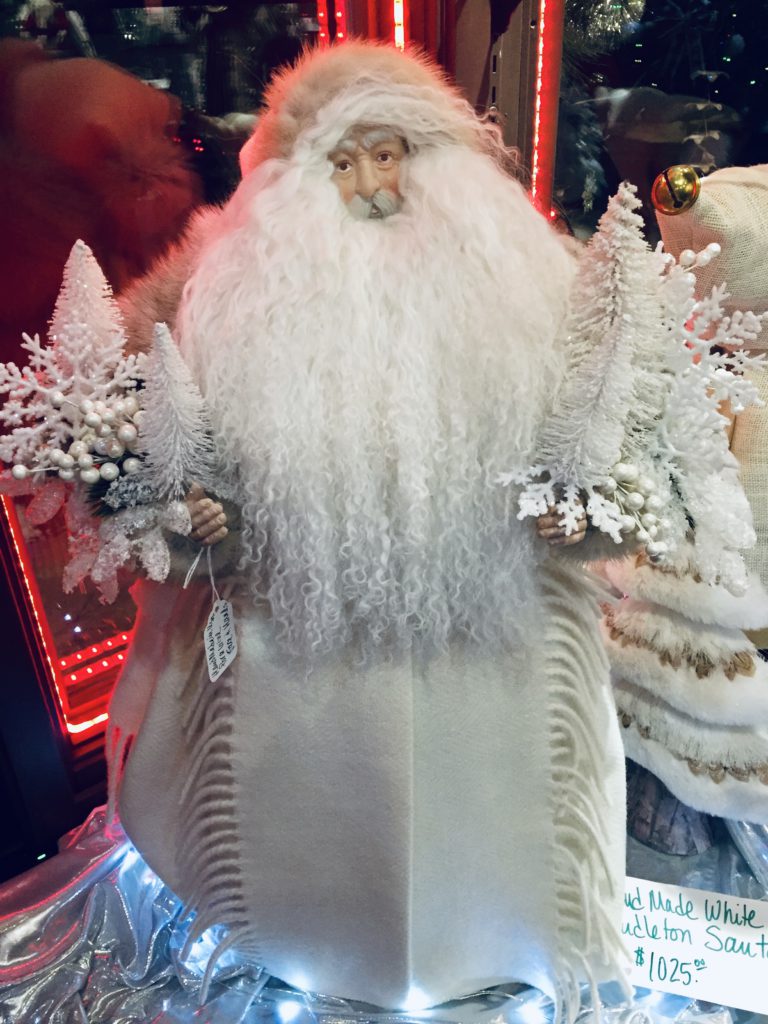 The Father Christmas above is 27″ high and about 21 inches wide.  It has Christmas trees and snowflakes. The fabric is vintage and made from a Pendleton Blanket. he's absolutely gorgeous and will not be in our front window for long!
As of Thursday, Dec 19, he is currently available and if you buy in the next two days we may be able to ship him to you in time for Christmas!
Questions or more images please call us at 970-476-5113.
TAPESTRY FATHER CHRISTMAS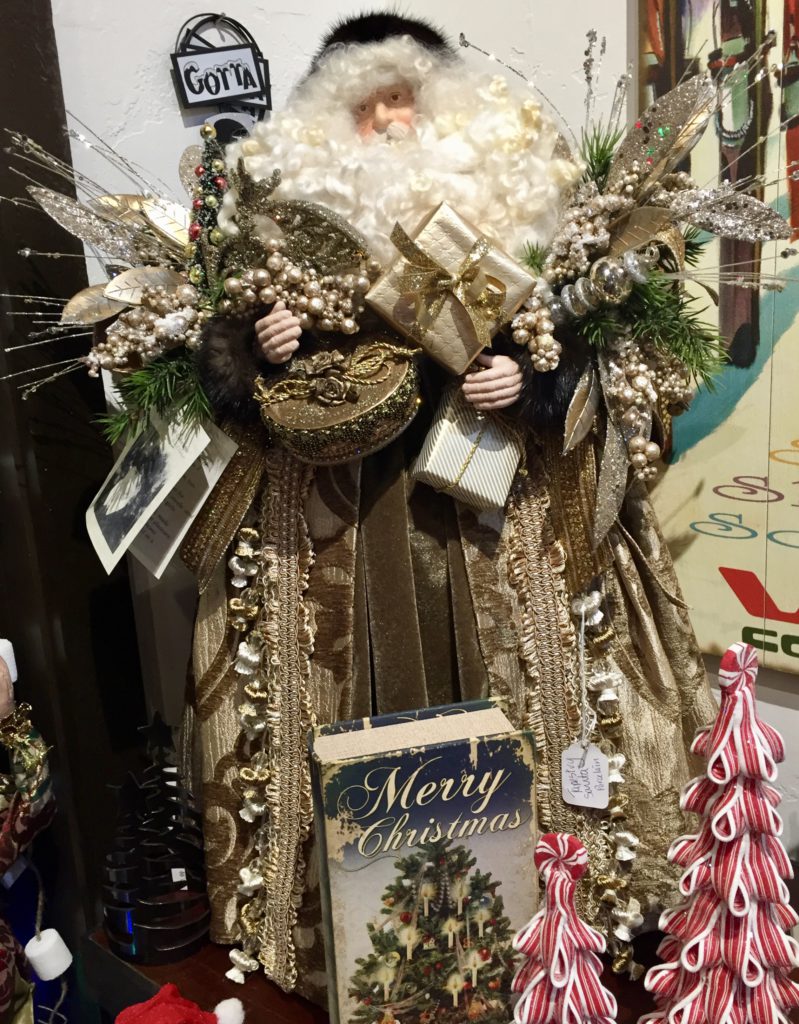 The Coat on this Father Christmas is a tapestry with detailed embellishments of trim, ribbon and sparkles.  Under the tapestry is velvet adding gorgeous depth to this work of art.
In the arms are sparkling ornaments,  reflecting the light a very old world and classic feel to this piece.  It stands 27 inches high as well.
It's been in the window all day and we have had several inquiries.  Call if you want more images, information or is this the Father Christmas you cannot live without!  970-476-5113 
If you are interested in this Father Christmas please call 970-476-5113
HANDMADE BEAVER FUR FATHER CHRISTMAS
The Santa has a beaver fur coat and cap embellished with real feathers. The artist uses refurbished fur coats she finds and repurposes them to make her Santas. Father Christmas is holding a light-up Christmas tree and lamb in one hand and books, Old wooden skis and a nutcracker on the other hand. It's truly magnificent!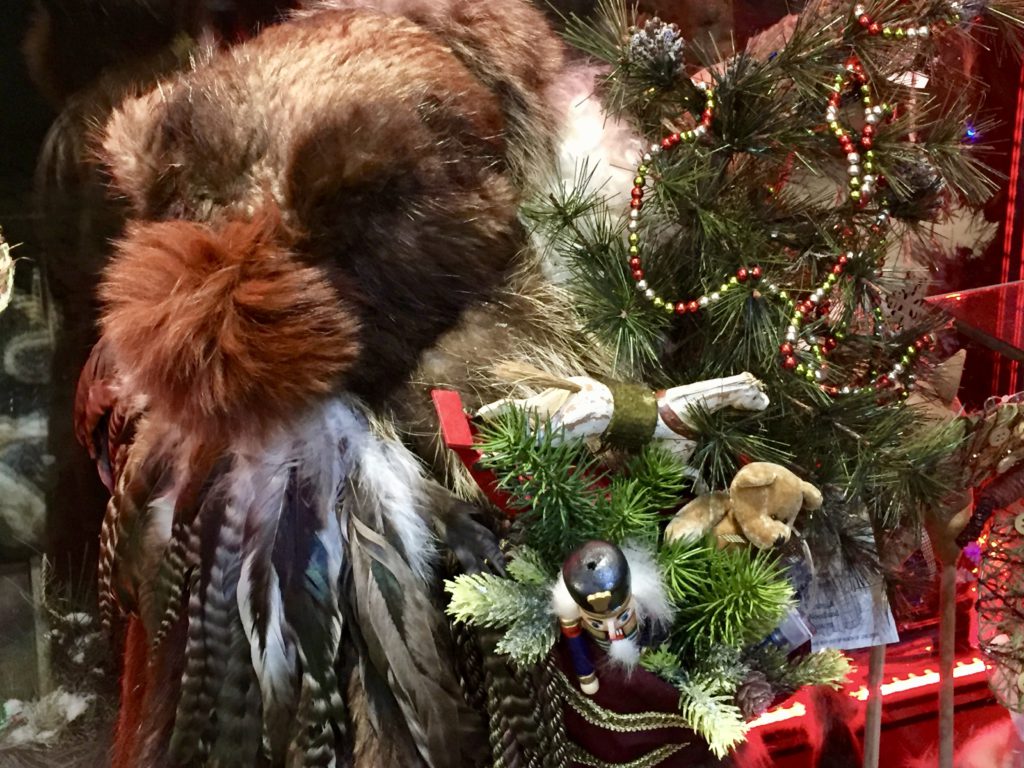 In this image, you can see the back of his coat and cap and the attention to creating the detail look with the real feathers! You can also see the additional ornaments in the tree he is holding. This is one of her best works to date!
If you are interested in this Father Christmas it was available as of Thursday, December 19th call 970-476-5113.
IF YOU ARE INTERESTED IN ANY OF THESE FATHER CHRISTMAS HANDMADE PIECES CALL US IMMEDIATELY 970-476-5113